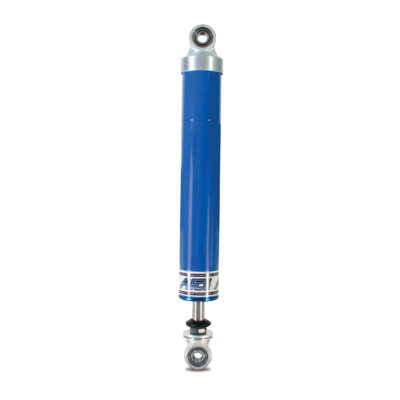 AFCO Big Body Rebuildable Twin-Tube Shocks R-Series
$199.99
Description
Shipping
Reviews (0)
Description
Note: This part is made to order. It will ship when it is produced.
AFCO R-Series Twin-Tube Shocks are packed with quality, performance and value, all inside a rebuildable steel body.  All internal parts of the AFCO Steel Take-A-Part shocks are identical to the components inside the aluminum body shocks, so you can expect the highest levels of performance and durability.
AFCO Steel Body Take-A-Part Shocks let you meet your "steel shock rule" and still allow you to run the most precise shock in the industry.  With the Take-A-Part, you are no longer limited to "off the shelf valves," and you can have the performance of your used shocks brought back to full factory spec with a rebuild rather than having to purchase a new shock.
All AFCO R-Series Shocks are 100% dyno tested, rebuildable and revalvable.
The larger body and the full 5/8″ shaft of the Big Body provides increased strength, as well as the flexibility of a standard size coilover spring.
Big Body Popular Applications:
Modifieds
Late Models
Limited Late Models
Open Wheel
Coilover or Conventional Spring
Dirt Modifieds
Recommended Swing Arm Twin Tube Shocks-Rebuildable

Right Front
Base Track Condition

Recommended 4-Link Twin Tube Shocks-Rebuildable
Slick Track Condition
7″ Collapsed Length 12.85″
7″ Extended Length 14.85″
9″ Collapsed Length 19.76″
9″ Extended Length 23.76″
19735
AFCO Steel Take-A-Part – 7″ – 3/5 Valving
1974
AFCO Steel Take-A-Part – 7″ – 4 Valving
19746
AFCO Steel Take-A-Part – 7″ – 4/6 Valving
19753
AFCO Steel Take-A-Part – 7″ – 5/3 Valving
1976
AFCO Steel Take-A-Part – 7″ – 6 Valving
19791
AFCO Steel Take-A-Part – 7″ – Damper
1990
AFCO Steel Take-A-Part – 9″ – Dummy
1993
AFCO Steel Take-A-Part – 9″ – 3 Valving
19935
AFCO Steel Take-A-Part – 9″ – 3/5 Valving
1994
AFCO Steel Take-A-Part – 9″ – 4 Valving
1994RT (Rough Track)
AFCO Steel Take-A-Part – 9″ SPECIAL Valving – Rough Track Shock
1995
AFCO Steel Take-A-Part – 9″ – 5 Valving
19972
AFCO Steel Take-A-Part – 9″ – 7/2 Valving
19982
AFCO Steel Take-A-Part – 9″ – 8/2 Valving
19992
AFCO Steel Take-A-Part – 9″ – 9/2 Valving
Additional information
| | |
| --- | --- |
| Weight | 5.02 lbs |
| Dimensions | 17.5 × 4.5 × 2.9 in |
| Shock Part# | 19735, 1974, 19746, 1975, 19753, 1976, 19791, 1990, 1993, 19935, 1994, 1994RT, 1995, 19972, 19982, 19992 |